COMPANY
空間是人與環境之間一個重要的連結。
一個好的環境,應該要從建築到室內設計,做一致性的設計,內外空間的相互交融,成就一個完善的居住有機體,我們期許能夠創造出讓生活更貼近大自然的建築,讓使用者感受師法自然所帶來的美好。
Space is an important link between people and the environment.
A good environment should be designed encompassing architecture and interior design. Consistent design and the integration of internal and external space can achieve a perfect living symbiosis. It is our hope to create buildings that will bring life closer to nature and allow users feel the beauty brought about by nature.
DIRECTOR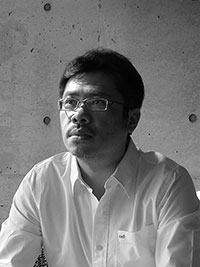 羅耕甫
橙田建築│室研所 主持設計
學歷
高雄醫學院 心理學系
LO, KENG-FU
Managing Director
Education
Kaohsiung Medical University - Department of Psychology
設計思想
盡可能的減少手段與方式,用純粹的感知和創造力去除一切多餘的元素,以簡潔的形式,客觀理想的反應事物的本質。

建築可以擁有許多的感性與想像空間,使人與自然的關係透過垂直向的錯落拉近彼此的距離,標準化的區域切割不再是唯一的選項,範圍無實界的空間思考,模糊的邊界,使得整體空間的使用上,更加寬敞與流暢,不僅降低人際的疏離感,也包容了創新無界限的意涵,期許能在環境、建築、居室與人之間創造出密不可分的關係,使人沉浸在自然語氣中。
CONCEPT
Reduce and remove all redundant elements so that pure perception and creativity can reflect the essence of things in a simple form and objective ideals.

Buildings can have many inductive and imaginative spaces. Standardized area separation is no longer the only option. Using indistinct boundaries can make use of the whole space. This creates a feeling of spaciousness and fluidity, which helps bring the inhabitants together. This also embraces the meaning of innovation without boundaries. I hope to create an inseparable relationship between the environment, architecture, the living room and people, so that people are immersed in the natural world.